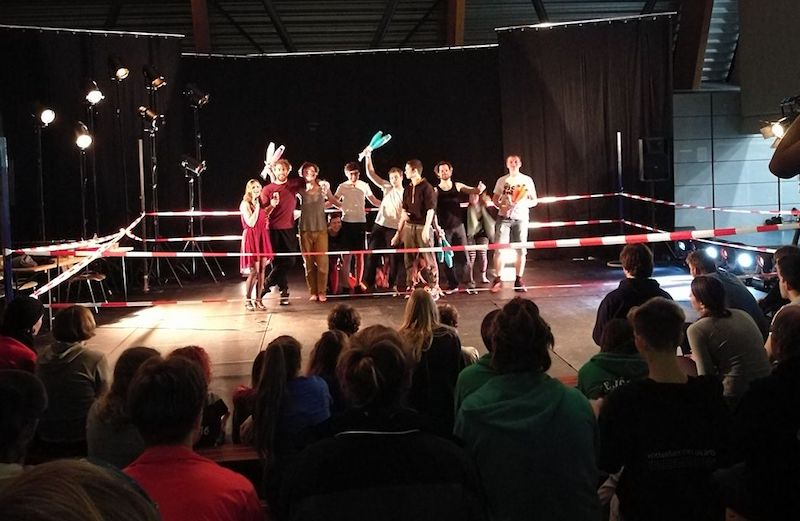 The bad news for Jan Poolen was that he hadn't won a Fight Night since the WJW 2017 a year ago, and at his last tournament, the European Masters, he lost all five matches and came away with just a single rankings point. He almost didn't take part in the Winter Juggling Weekend Fight Night last Saturday, offering to host the tournament.
The good news is that he did decide to enter, qualified as seventh seed, then beat Paweł Witczak, Simon À Campo and Rob van Heijst in a row to win the whole thing. He earned himself 300 rankings points, which moves him up to fourth in the 2017 Race Rankings. He doesn't gain anything in the current rankings though, as his 300 points from last year were simply replaced by this year's result.
15 jugglers entered the qualifications, and the top seven seeds all won either 11 or 10 of their qualification matches, meaning there was very little skill difference at the top. Most of the knockout matches were very close too, with many decided by the final point.
Rob van Heijst's second place, along with his win at the Dutch Juggling Championships, moves him up to second in the 2017 Race Rankings. Leo Ostenrath beat Simon À Campo in the third place match, earning himself 125 points in his first tournament of the year.
Thanks to Melissa Staugaard for organising and hosting the tournament. Find all the results and details here: http://fightnightcombat.com/tournament-WJW-2017-Heerlen.html
This weekend there are two more tournaments. Julius Preu will be aiming for a second Australian Fight Night title at the JuggleLab Camp, while in Germany top 10 players Luke Burrage and Alex Leymann will be in action at the Tropical Island Invasion.