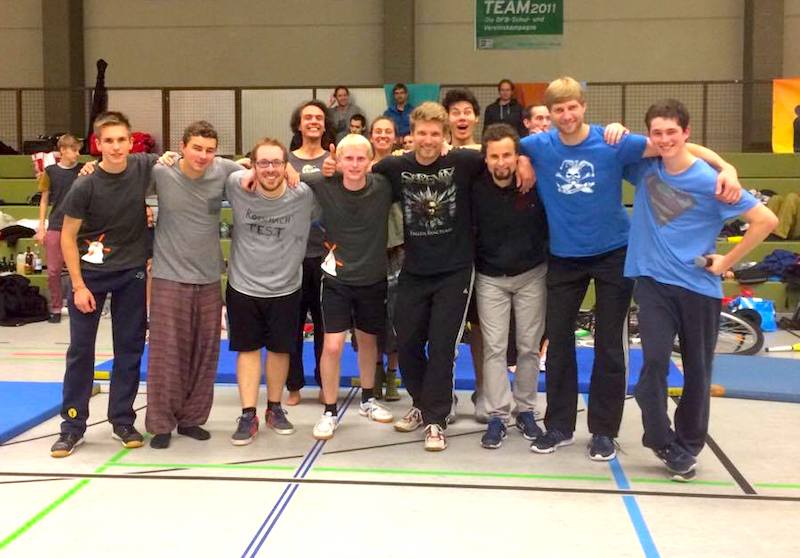 Leo Ostenrath won his second tournament this past weekend, just a week after his first victory, at Herxheim 2016. He beat both Braun brothers along the way (both former top 10 players); Andreas Braun in the round of 8 and Stefan Braun in the final.
Check out the video of the final match below:
18 jugglers took part at Herxheim, and Leo's 250 points means he has moved up to 7th in the 2016 Race Rankings and has qualified for the European Masters in Berlin in November.
Over at the Durham Juggling Convention, three jugglers who have already confirmed their invites to the European Masters took part. Jon Peat, having already taken part in too many 250 level tournaments, needed to win the tournament to improve his Race Rankings. He only came third.
The final featured the top two players in the 2016 Race Rankings, Luke Burrage and Brook Roberts. They also played each other in the BJC and Bungay finals this year, with Luke winning both. But for the first time in seven matches over six years, Brook finally got the better of Luke and defeated him 5-1. This is also Brook's first ever win over a number one ranked opponent.
Finally, in Bogota, Columbia, the Habla de Circo 2016 hosted a Fight Night for the first time. 25 jugglers entered the group qualifications, with the first 8 winners going through to the knockout. First time competitor Esteban Velez beat Jonathan García 5-2 in the final to earn himself 250 ranking points.
This week is the first week with 52 tournaments in the 52 week current rankings, an average of one per week, and 430 players is the highest number of participants too. The number of tournaments will drop in the coming weeks though, due to Hamburg, Halle and Nürnburg conventions not taking place this year.
There are just two more tournaments in the 2016 season whose points count in the 2016 Race Rankings, both in Germany (Laer and Cottbus), and four invites still left for the European Masters.
See the 2016 tournament calendar here: http://fightnightcombat.com/tournament-calendar-2016.html