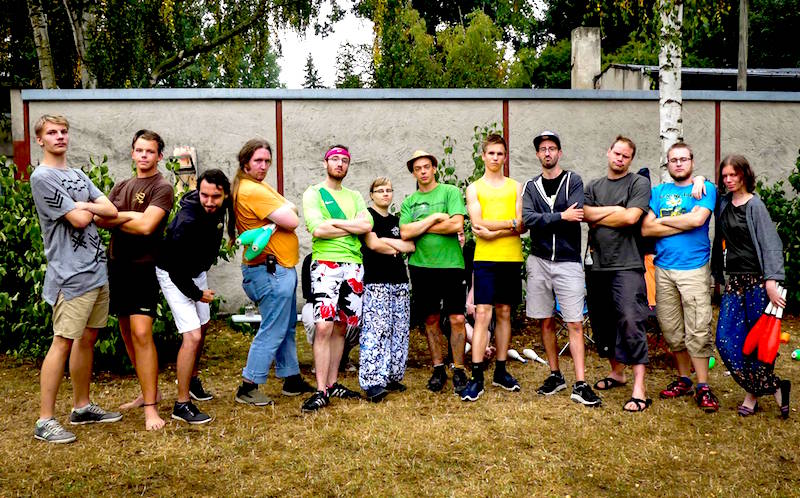 There have been three small Fight Night Combat tournaments in Germany over the last three weekends, and Martin Schwalenberg has been posting some impressive results. These follow on from his win at the Tropical Islands 2016.
First, at the Madgeburg Juggling and Poi Convention, Martin beat Niklas Aumüller in the final by one point, 5-4. Niklas was also the runner up in 2015, but this time he beat 2015 champion Alex Leymann in their semi-final. Alex had to settle for third this year, beating Stephan Cipra in the third place match.
The following weekend, a last minute tournament was organized by at the Phoenix Fire Convention and 11 jugglers took part. Martin earned himself 200 rankings points for beating Jona Harnischmacher 5-3 in the final.
At his third tournament in three weekends, at Sudeburg 2016, Martin beat the 2015 champion Friederike Kraaz in his first match and Stephan Cipra in his semi-final match.
But Martin's winning ways were brought to an end by an in-form Alex Leymann, who just two weeks earlier missed out on repeating his win at his home tournament of Madgeburg.
Martin's winning streak ran to three tournament victories, 10 matches and 725 ranking points. That is the joint 5th longest streak by match wins, though due to it running over small tournaments, it's only the 13th most valuable in terms of points. However, Martin earned enough points to bump himself up to 9th place in the 2015 Race Rankings.
Meanwhile, in the UK, the Play Festival hosted their first ever Fight Night. Only eight jugglers entered, but this resulted in a series of very entertaining matches. The final, featuring Will Borrell and Rob Thorburn came down to a deciding point, with both players level at 4-4. Rob took the final point of the tournament, and won himself 200 rankings points.
Thanks to Alex Leymann, Luke Burrage, Peter Theeg and Fabian Fehlhaber for organizing the Fight Nights over the last month.
Look out for upcoming tournaments in Karlsruhe, Gdynia, Cambridge, Dublin, Enschede and at the Turkish J-Fest over the next four or five weeks. Karlsruhe, Cambridge and the HJW at Enschede will be 500 or 350 events, depending on their size.
Unfortunately, it seems like there will be no Hamburg Juggling Convention this year. To make up for the lack of a major (750 level) tournament in Germany in 2016, either the Nürnburg or Cottbus Fight Night will be increased to a 500 point event. This way Germany will have the same number of national level events (350-500-750) as the UK and the Netherlands:
http://fightnightcombat.com/tournament-calendar-2016.html