Last year Luke Burrage upset the number one ranked combat player to win the NJF 2016 Fight Night. This year the NJF 2016 Fight Night had a similar upset, as Rob van Heijst beat the number one ranked player on his way to winning the overall title.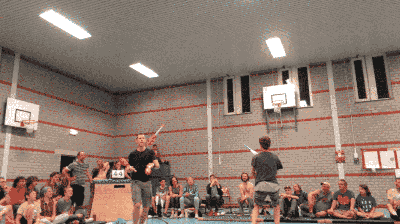 Watch the full video of Rob beating Luke here in their semi-final match here:
A local juggler beating the top ranked player, and the previous year's champion, might have been the most entertaining match in any other tournament, but at the NJF 2016 the best was held in reserve for the final. Rob, the champion at Havixbeck 2016, went up against the champion of Hannover Jongliernacht 2016, Markus Utke, who beat Fabio Zimmermann in his semi-final.
Watch the full final match between Rob and Markus here:
The NJF Fight Night was the second major tournament of 2016, worth 750 rankings points. 20 jugglers took part in total, including six top twenty players.
Rob's new title means lots of movement in the rankings. The 2016 Rankings Race hots up with Rob leaping up to second place and 1070 points from his two tournament wins and two other tournaments. Rob is just ahead of Brook Roberts, who currently has 950 point from his two tournament wins and his second place at the BJC. Luke is still out ahead with 1315 points from his two tournament wins and his third place finish at the NJF. No other juggler has won two tournaments in 2016, though Markus has 700 points and is in fourth place overall.
In the 52 Week Current Rankings, Rob is up to 4th place, just behind Brook Roberts, and one ahead of Jochen Pfeiffer, who just lost his second place points from the NJF last year. Rob is now the highest ranked Dutch player ever. Markus Utke is also into the top 10 for the first time.
See all the results and details from the NJF 2016 Fight Night here: http://fightnightcombat.com/tournament-NJF-2016.html
Stay tuned next week for news from Aachen 2016 (will Julius Preu ever win a tournament?) and Cumbria 2016 (can Jon Peat defend his title and win his first title of 2016?).