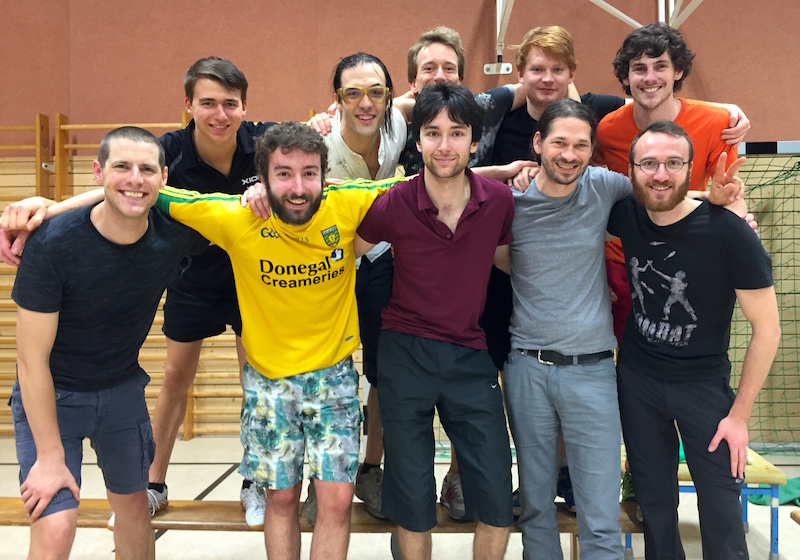 Congratulations to Eóin Allan for winning the European Masters 2015 tournament yesterday in Berlin.
Ten of the top 15 ranked jugglers of the 2015 Fight Night Combat season took part, each flying in from the UK, traveling across Germany, or just taking the Ubahn across the city from their home. The invite-only selection of players with such high ranks made this the strongest field of players in any tournament so far.
While not part of a convention, roughly 50 other people turned up to support the event, spectate, and cheer on their favorite players. And for the whole evening Maarten Wils hosted a live video stream of the event, with viewers from all around the world following the action at home.
Each juggler played four three-set matches in two groups, with these matches counting the same as knockout matches for record keeping purposes. Eóin went undefeated in his group matches and the knockout stage, and adding this to his win at the EJC 2015 in Bruneck, he now has the third longest and second most valuable winning streak on record, 12 matches in a row.
Also, due to so many matches among top players, Eóin and Luke Burrage now lead the list of most wins vs top 10 players in 2015. Eóin beat Luke in the European Masters semi-final, along with his win in the EJC final, to bring their head-to-head record to 2-1 in his favor.
Finally, by winning all his matches at the European Masters, Eóin passes Jochen Pfeiffer in both the 2015 end-of-year rankings and the current 52 week rankings; Eóin is now second and Jochen third.
Dave Leahy lost to Eóin in the group stage, but then defeated Alex Leymann and Florian Marienfeld in the knockout stage to face Eóin again in the final. Dave earned himself 260 rankings points and remains at 4th place in the rankings.
By winning more group stage matches than Dave, Luke Burrage managed to earn 270 points, 10 more than Dave, with his third place finish.
Florian Marienfled, who lost in the third place match, only just scraped into the knockout stage on the third tie breaking metric (points difference) at the bottom of Group B, but immediately beat Alexander Müller, the undefeated winner of Group A.
Other notable performances included those by Julius Preu, who registered his first two wins versus current top 10 players, and Brook Roberts, the only player to reach match point against Eóin in the entire tournament. Jochen Hänsel, Jon Peat and Alex Leymann all won one group stage match to earn themselves 50 rankings points each.
Thanks to all involved in running the tournament! Keep an eye out for a highlights video featuring all the best moments from the European Masters, which should be upload in about 10 days.
All the results and details can be found here: http://fightnightcombat.com/tournament-European-Masters-2015.html