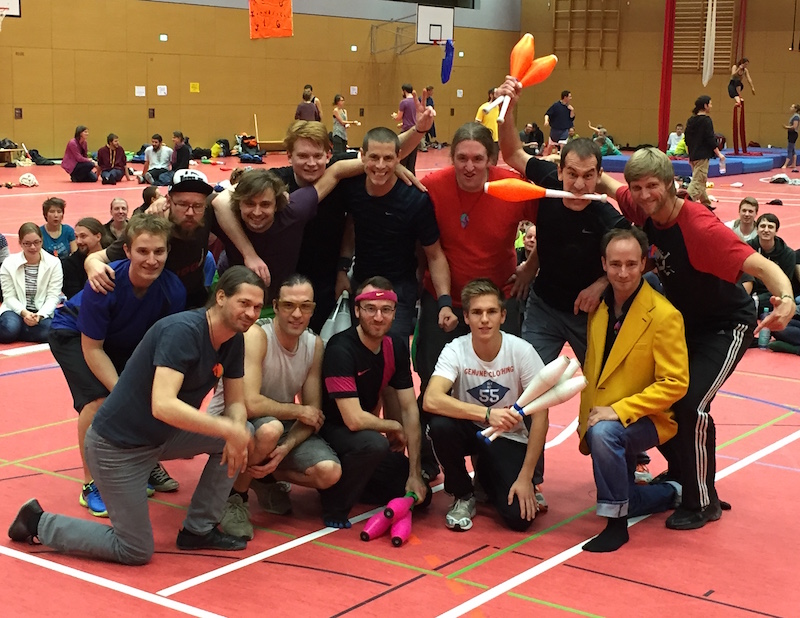 Due to Berlin Juggling Convention's cancellation this year, Hamburg 2015 took its spot as the top Fight Night Combat tournament in Germany. The field of 22 included seven players ranked in the current top 20, and the top 12 made it through qualifying to the knockout.
The top four seeds, and the eventual semi-final pairings, were four players who know each other very well. Alexander Müller vs Luke Burrage and Jochen Pfeiffer vs Florian Marienfeld, the exact same lineup as the EJC 2010 Joensuu Fight Night.
Check out this video of Alex and Luke's semi-final, featuring Alex's amazing catching/dropping skills:
Flo caused the biggest upset of the year when he knocked Jochen out of the EJC Fight Night in the round of 8. This time, despite a short-lived comeback by Flo, Jochen had his revenge. Flo went on to beat Alex in the third place match, then Jochen and Luke faced off in their fourth final round match of the year.
Check out this video of Luke and Jochen's craziest single point of the year so far:
Jochen won the match 5-0, which means that Luke has now lost 5-0 in his last two final matches.
As Hamburg was the last big tournament of the year, it has shaken up the 2015 rankings race and the European Masters provisional invite list. Alex Leymann and Andreas Braun both bolstered their chances of an invite with their round of 8 finishes. Jochen Hänsel is currently in the 10th invite spot, again helped by his round of 8 finish. Florian Marienfeld's and Alexander Müller's results mean they are both ranked ahead of the Jochen, but due to only entering two tournaments each in 2015, they aren't eligible for a place in the end of year finals.
See all the results and details at the Hamburg 2015 page: http://fightnightcombat.com/tournament-Hamburg-2015.html