Golf has the US Open, the Masters, the Open Championship, the PGA Championship, and the end of season Tour Championship. Tennis has the Australian Open, Roland Garros, Wimbledon, the US Open, and the end of season World Tour Finals.
In 2016, Fight Night Combat will likewise have four major tournaments and an end-of-year final.
The British Juggling Convention in Perth, Scotland, will host the first major tournament in March 2016. After a few years as a 500 point tournament, it will be raised to the 750 level. Iver Tronstad won the past two years... will he return to defend his title?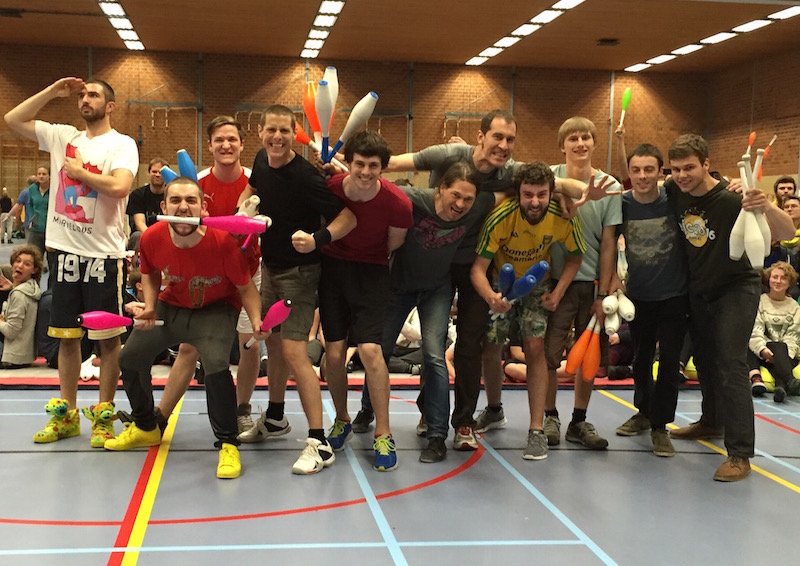 Next up is the Netherlands Juggling Festival in May, and will once again be a 750 point tournament. The NJF Fight Night was won by in 2013, Iver Tronstad in 2014, and then Luke again in 2015. It had one of the strongest field of players of any tournament in 2015, and promises to be a huge event in 2016.
The Berlin Juggling Convention didn't take place in 2015, and Hamburg took its place as the 750 level event in Germany, with the small non-convention tournament in Berlin reduced to just 250 points. In 2016 the Berlin Juggling Convention is back, and once again will be worth 750 points. Past winners include Florian Marienfeld and Luke Burrage, along with Jochen Pfeiffer who has five Berlin titles and has won the last three in a row.
The European Juggling Convention in Almere, Netherlands will be the fourth major tournament of 2016. It will be worth more points than previous EJC tournaments, 1250 instead of 1000. In 2015 a total of 70 jugglers took part in qualifications, making it the biggest Fight Night ever. Will it be bigger again in 2016? And will Eóin Allan be able to defend his only FNC title?
The European Masters is happening for the first time in 2015, and the top 10 combat players of the year will be invited to Berlin in December. In 2016 there might be more than 10 players invited, and if anyone else volunteers to host it, it might not be in Berlin.
In 2015, a different player won each of these big tournaments. In 2016 and future years, the biggest achievement will be to win the "Grand Slam", all four major tournaments in a calendar year. This has never happened in golf, and only a handful of tennis players have clinched all four major titles in a calendar year.
A provisional 2016 tournament schedule is available, though no information listed there is final.