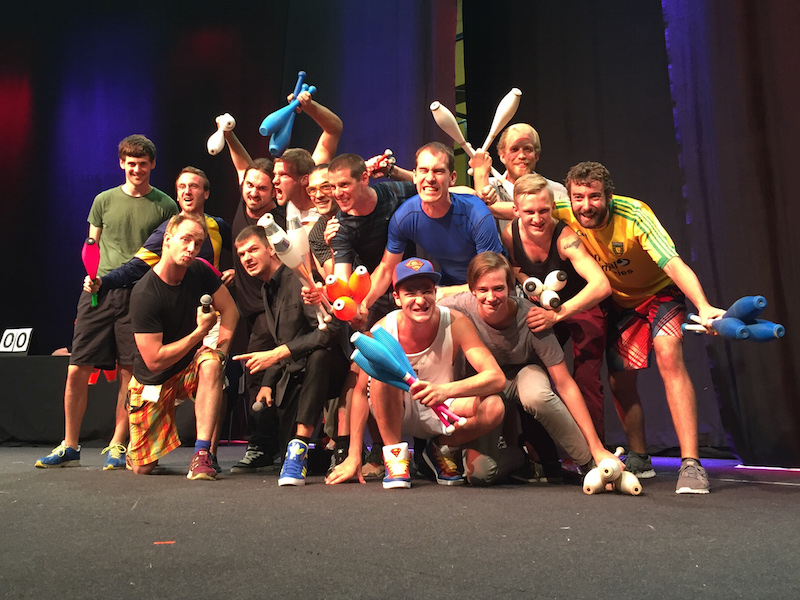 This year the EJC hosted the biggest Fight Night Combat tournament in history. 70 jugglers entered qualifications, and 16 took part in the knockout. Eight of the top 25 jugglers in the current FNC rankings took part, making it the fourth most difficult tournament to win.
The top four seeds were Jochen Pfeiffer, Luke Burrage, Eóin Allan and Dave Leahy, and they each qualified top of their groups. To keep the stage finals shorter and more entertaining for the audience, they each played their round of 16 matches directly after the the qualifications. There were no upsets, and each knocked out one of the four lowest seeded jugglers who qualified: Emil Lamprecht, Jan Poolen, Jan Maly and Michael Masson respectively.
The action continued on stage late at night. If you haven't yet looked at the results, and don't want spoilers, watch these videos in order. The first three feature the most entertaining individual fights, and the last two videos wrap up all the rest of action and highlights.
And so, spoilers alert, it seems that spring and summer of 2015 is when the two incredible winning streaks of Jochen Pfeiffer came to an end. At the EJC, in his round of eight match against Florian Marienfeld, Jochen had eight match points. Flo upped his intensity to stage an unbelievable comeback to defeat Jochen, becoming the first player ever to defeat Jochen more than once (doing so previously at the Berlin 2010 Fight Night).
Flo went on to lose to Eóin Allan in a very close and entertaining semi-final match. Luke Burrage's and Dave Leahy semi-final was far more one-sided, with Luke taking it 5-0. Continuing the run of one-sided matches, Dave beat Flo in the third place match 5-1, and Eóin proved untouchable in the final match, trouncing Luke 5-0.
Eóin, after finishing in second place, fourth place (three times), and third place in his first five Fight Nights, peaked at the right time to make the EJC his first ever overall victory, becoming just the third ever EJC winner after Jay Gilligan and Jochen Pfeiffer. On the other hand, Luke has now placed second at six of the 11 EJC Fight Nights so far, losing out twice to Jay, three times to Jochen, and now once to Eóin.
All the results and details can be found on the Fight Night Combat website: http://fightnightcombat.com/tournament-EJC-2015-Bruneck.html