Order has been restored in the world: Jochen Pfeiffer beat Luke Burrage on Saturday by 5 points to 4 in the final of the Berlin 2015 Fight Night. In the last 52 weeks of Fight Night tournaments, Luke hasn't lost to any player not called Jochen Pfeiffer, and Jochen has not lost to any player not called Luke Burrage, though Jochen leads their head to head record 4-1 in that period.
Eóin Allan lost in the third place match in his previous three tournaments, but in Berlin beat Markus Utke for those sweet bonus third place points.
This year there was no Berlin Juggling Convention, so the Fight Night took place at a juggling meetup in a park, and only local jugglers took part. The points level was reduced down to 250 from 750 last year. It'll be a 750 tournament when it returns in 2016.
May was a crazy month for Fight Night Combat, with nine tournaments in total. That's more than all the tournaments in January to April, and almost 15% of all the tournaments in the database so far! So let's catch up on some news we missed: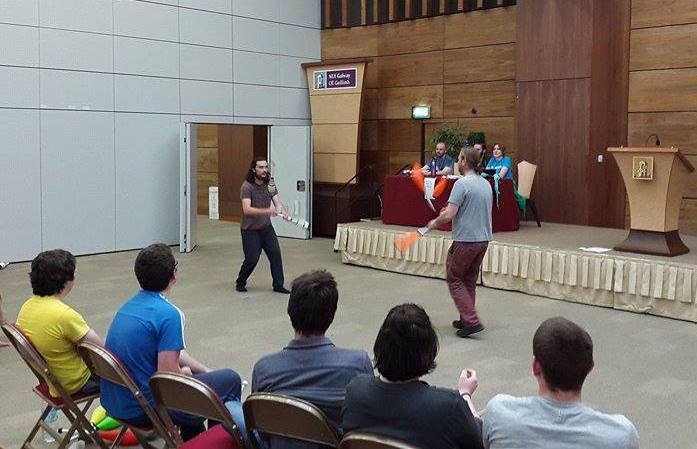 Stephen McGinley beat James Donnellan in the final of the Galway 2015 Fight Night, earning himself 250 points at the first tournament in Ireland after the EJC last summer.
Over in France, Mathieu Griselle beat Marc Schneider in the final of the Bibasse 2015 Fight Night. Eight jugglers took part in this 125 level event. Thanks to Asaf More for organizing this event, and he'll also be running the next Fight Night in France at the French Juggling Convention in July.
Fight Night action continues this coming weekend at the Hungarian Juggling Convention.